Back Yard Bird Food Essentials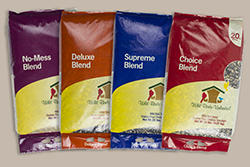 The Best, Freshest Seed in Town
The average back yard may be visited regularly by 15 to 20 different bird species. However, a bird-friendly yard in an ideal habitat, can attract up to 60 or more different species.
Wild Birds Unlimited is dedicated to offering fresh, top-quality seed...to bring you birds, but no wasteful fillers birds don't eat. Our no-waste No Mess bird seed blends contain only 100% edible seed. No cereal fillers—just fresh, high-quality seed your birds will love. We have 4 No Mess blends and 4 in-shell blends along with single item seeds like sunflower chips, Nyjer and Safflower.
WBU Seed Blends from $22.99...and if you join our Daily Savings Club (called the DSC Club) like other Members, you'll save 15% OFF Every Day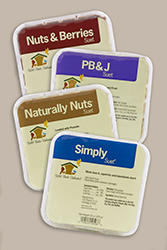 Give Your Birds a Boost With Suet
...from $2.69 and only $2.29 for DSC Members!
Birds such as woodpeckers, warblers, chickadees and nuthatches, regularly eat suet for its high-fat, high-energy content. We offer a variety of suet flavors to attract the greatest assortment of birds. All Wild Birds Unlimited suet is rendered, meaning impurities that can cause spoilage are removed, so it is shelf-stable.
Finicky Finches Love Nyjer® (aka "thistle")
Nyjer 3 lb. bag of LOCAL Nyjer $8.00
Nyjer attracts finches, its high oil content is an excellent energy source for active birds like finches. It's best used in our specially-designed finch feeders, and it's critical to keep the food fresh for these picky little eaters. Once seed starts to dry out and become stale, or if it gets a bit wet and gets moldy, finches will turn up their beaks for fresher forage. Store your Nyjer in an airtight container for a longer shelf life and buy in small quantities that will be used up in a few weeks.
We are fortunate to have the only US-grown commercial Nyjer, sourced from our local seed-grower near the Eugene airport. This fresh seed is NOT heat-treated before entry into the US (since it's grown here), so it's very fresh and finches love it!
Below: American Goldfinches at top and a field of Nyjer growing near Eugene, taken on our staff tour of the fields in 2014.