NEW! Bird Events & News
What's Going On in the Bird World!
Events About Birds
Vaux's Swift Watch at Sunset – April 29, 7:30 pm - 9:00 pm – Host: Lane County Audubon
The northbound Vaux's Swifts arrive from the south in April, and although their timing varies, it is hoped they will show up in some quantity on Friday, on April 29. For many, many years, they have used the Agate Hall Chimney to roost for the night as they gather to feed and recover after migration from the south.
Come join Lane Audubon and others at Agate Hall, on UO campus at 17th Avenue and Agate Street, inside the fence by the alley. Hope to see you there!
• • • • • • • • • •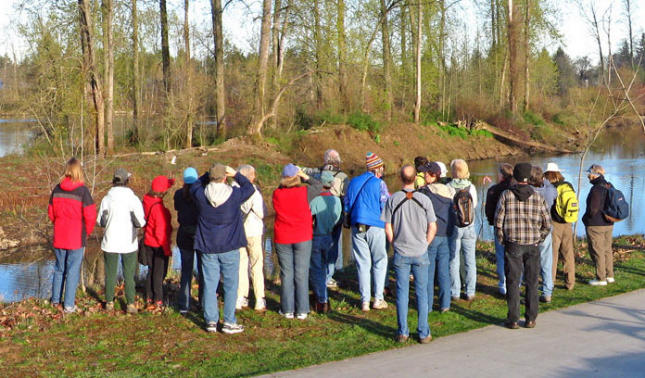 Photo, 2015, WBU Eugene Bird Walk at Delta Ponds
Local Bird Walks
Lane County Audubon Society Bird Walk • 3rd Saturday
LCAS hosts bird walks on the 3rd Saturday of each month. Scroll down on the main site page to find the next bird-walk listing.
• • • • • • • • • •
Wild Birds Unlimited Bird Walks • We Hope to Resume Soon
Join trip leaders to venture to different birding hot spots in the area, rain or shine. FREE walks require advance registration so leaders can contact you via email with location details. Registration Required! CALL the store at 541-844-1788!
BOGS (Birds of Oregon and General Science) • Monthly bird walk for members
BOGS began as a class taught through senior centers, Lane Community College and elsewhere and it's now a volunteer-led informal group that offers bird walks and presentations by area naturalists. To see upcoming events check their calendar, listed below.
http://priscillanhk.com/bogs-spring-2015-calendar.html
• • • • • • • • • •
Mt Pisgah Arboretum Bird Walks
Monthly bird walk intended for people with all levels of birding experience. Rain or shine. Meet at the Arboretum Visitor Center. $5, Members FREE.
http://www.mountpisgaharboretum.com/learn/walks/
• • • • • • • • • •
A Few Places to Bird
"Birding Eugene" Links to Hotspots
http://thefarleys.us/BirdingEugene/Welcome.html
This on-line guide to birding sites in the Eugene area was developed by a group of birders associated with Lane County Audubon, and is maintained by Art Farley (thanks, Art!). This guide will help you find the finest places to observe area birds.
• • • • • • • • • •
Fern Ridge Reservoir, west of Eugene
https://www.birdwatchingdaily.com/hotspots/192-fern-ridge-wildlife-area-eugene-oregon/
The Fern Ridge area just west of Eugene centers on a reservoir, but includes marsh, woodland, and grassland. So while waterfowl and shorebirds are one point of focus, Fern Ridge is a fine overall site for all kinds of birds, as evidenced by its lengthy species list. Parts of the area may be closed at times to protect waterfowl or for hunting season.
• • • • • • • • • •
Delta Ponds, near Valley River Center, Eugene
http://www.eugeneoutdoors.com/delta-ponds-bird-watching-and-nature-walk/
Known for their fantastic wildlife viewing, birdwatching, wildflowers, and walking-running trails, the Delta Ponds are one of Eugene, Oregon's best-known recreation areas. This 150-acre network of ponds, sloughs, and waterways near Valley River Center act as a haven for wildlife of all kinds. Over 100 species of birds have been recorded here and the adjacent stretches of the Willamette River host numerous fish and aquatic wildlife, including the threatened Western Pond Turtle.
Birding Resources
OBOL Postings (hosted by Oregon Birding Association) — Oregon Birders On-Line (OBOL)
This is a list-serv used by many Western Oregon birders to report their bird sightings. Some of these posts are about rare birds, but many are simply reports of interesting sightings, unusual bird behavior, inquiries for species locations, and upcoming birding events in Oregon.
To sign up, go to: http://orbirds.org/obolguidelines.html
To search the archives to the present: https://www.freelists.org/archive/obol
• • • • • • • • • •
Willamette Valley Birding Trail Guide
Another great compilation by experts, of birding locations and the birds to be found there. Click on one of the Trail LOOPS for a detailed description of what birds you may find at various places along the way.
http://oregonbirdingtrails.org/wvtrailguide.htm
• • • • • • • • • •
Fern Ridge Reservoir (Wildlife Management Area)
Willamette Valley's largest body of water, Fern Ridge is surrounded by marshes, home to nesting Western and Clark's Grebe, Redhead, Black-necked Stilt, Black Tern and other species usually associated more with the Great Basin. When the reservoir is drawn down in fall, expansive mudflats make this the best shore-birding area in the Willamette Valley, with extraordinary finds, along with nearly every western shorebird species. On your way to the reservoir from downtown Eugene, be sure to visit Skinner Butte, one of the valley's prime migration spots.
Go to this link and click on the Fern Ridge Loop link: http://oregonbirdingtrails.org/wvtrailguide.htm
• • • • • • • • • •
News from WBU Eugene?
Visit Our Facebook Page at https://www.facebook.com/eugenewbu or Email us at [email protected]