Jim's Birdacious Bark Butter...
Now Every Tree is a Birdfeeder®
Bark Butter List Now 119 Species!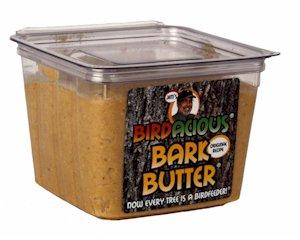 This just in: The Bark Butter bird list is now up to 119 species with the addition of the Lincoln's Sparrow and Western Bluebird, both reported by Mike Gedney of Novato, CA.
The list is below, so if YOU have spotted other species enjoying it, DO let us know!!
No bird food attracts more species of birds than Jim's Birdacious® Bark Butter®. Created by Jim Carpenter, founder of Wild Birds Unlimited, Bark Butter is a spreadable suet that can be easily smeared on tree bark or a Bark Butter Feeder to attract birds such as chickadees, nuthatches, catbirds, cardinals, mockingbirds, wrens, woodpeckers, towhees, Brown Creepers, grosbeaks, robins and more. This exclusive food option is made from suet, peanut butter and corn for a high energy treat your birds will love.

See the current bird list below, and stop by our store and pick up a tub of your own.
Originally, Jim Carpenter created Bark Butter to attract Brown Creepers. However, through the years many more species of birds have been seen eating it; 119 so far and counting. Here is the list of birds across North America that have been reported eating Jim's Birdacious Bark Butter. (Those in BLUE are found in Oregon..at least part of the year.)
Gray-cheeked Thrush

Swainson's Thrush

Hermit Thrush

Wood Thrush

American Robin

Varied Thrush

Gray Catbird
Northern Mockingbird
Brown Thrasher
Curve-billed Thrasher
Crissal Thrasher

European Starling

Ovenbird

Orange-crowned Warbler

Nashville Warbler

Northern Parula
Magnolia Warbler

Yellow Warbler

Black-throated Blue

Yellow-rumped Warbler

Yellow-throated Warbler

Townsend's Warbler

Hermit Warbler

Pine Warbler

Spotted Towhee

Canyon Towhee
California Towhee
Rufous-crowned Sparrow

Chipping Sparrow

Black-throated Sparrow

Fox Sparrow

Song Sparrow

Lincoln's Sparrow

White-throated Sparrow

White-crowned Sparrow

Golden-crowned Sparrow

Dark-eyed Junco

Summer Tanager

Western Tanager

Northern Cardinal
Pyrrhuloxia
Rose-breasted Grosbeak

Black-headed Grosbeak

Indigo Bunting

Red-winged Blackbird

Rusty Blackbird

Brewer's Blackbird

Common Grackle
Boat-tailed Grackle

Brown-headed Cowbird

Hooded Oriole

Bullock's Oriole

Baltimore Oriole
Scott's Oriole

Purple Finch

House Finch

Common Redpoll

Pine Siskin

American Goldfinch

House Sparrow