The Prop-er Way to Eat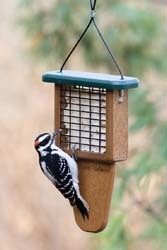 The EcoTough™ Tail Prop Suet Feeder lets woodpeckers and other birds who prop themselves upright with stiff tail feathers eat in a natural way. The paddle-like tail prop simulates a tree trunk and offers birds a place to prop their tail while they feed. This feeder holds one suet cake (there is one that holds 2 cakes), is easy to fill and hangs anywhere.
EcoTough feeders and houses are environmentally friendly, high-quality products that are made from recycled plastic milk jugs. These feeders and houses prevent used milk jugs from making their way into our landfills. EcoTough feeders and houses won't rot, crack, fade or warp like wood can. They also come with limited lifetime guarantees.
Watch as a flock of Bushtits feeds, one watching for danger, or see Downy Woodpeckers and Flickers enjoy the suet, too! Here is a photo taken in early 2014 of a pair of Flickers at owners' Dan and Barbara's EcoClean Tail-Prop feeder. (We later got to watch Dad Flicker teach his two youngsters to feed here, too!)