Store Events: Bird Walks & Seminars
Eugene WBU Holiday Hours
Night-Before-Christmas, 10am - 3pm; Christmas, Mon. Dec. 25 – Closed; New Year's Eve – 10am - 3pm; New Year's Day, Jan. 1— Closed;
Eugene WBU Bird Walks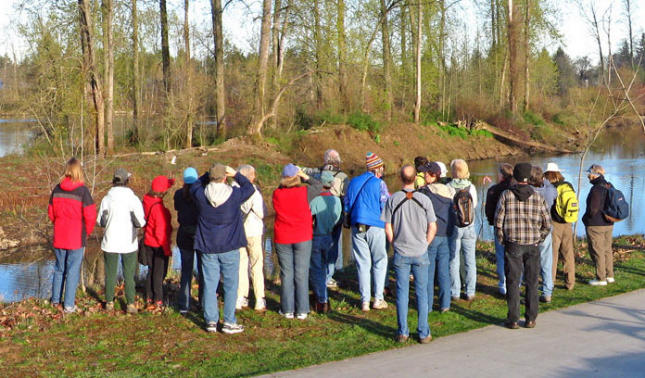 Our twice-monthly FREE Bird Walks will begin again in early 2018, so please sign up to get our emails to alert you to when they start up again.
Join us on our twice-monthly FREE Bird Walks. Held on the 1st and 3rd Wednesday mornings, the maximum number of participants is 15. To preregister (required) CALL the store at 541-844-1788. Give your email address and phone number to our staff and the leaders will contact you via email about the specific locations. (We may occasionally cancel walks during really nasty weather!)

The very best way to know what events are occurring is to sign up to get our news and announcements... We won't overwhelm you as we only send 2-3 emails a month to announce new events as they are known.
Our usual leaders are Donna Albino & Rachael Friese and each destination is chosen early the week of the walk. All will be in the Eugene Springfield area, and the leaders send directions to each participant a day or so in advance. Participants then meet at the chosen destination for the bird walk...
Call us to be notified when our walks begin in 2018.
We hope to see you outside in 2018!
• • •
Seminars: Will also start up again in 2018! Sign up to get our newsletter to know what's coming next!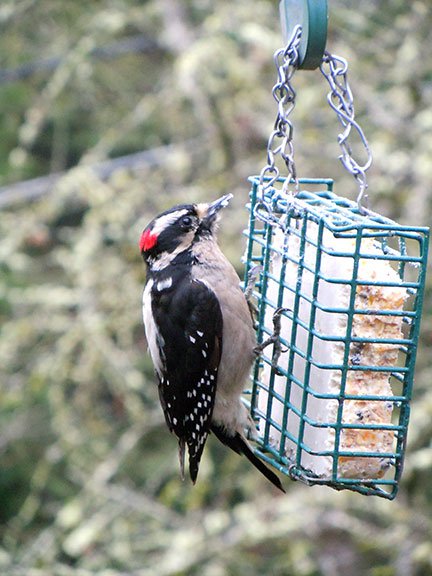 Pre-register in the store or by calling: 541-844-1788. Pre-registration required.
Shown above, Downy Woodpecker on a suet feeder basket.
• • •
Eugene WBU Holiday Hours
Night-Before-Christmas, 10am - 3pm; Christmas, Mon. Dec. 25 – Closed; New Year's Eve – 10am - 3pm; New Year's Day, Jan. 1— Closed; Easter, Sunday, Apr. 1— Closed; 4th of July— Closed; Labor Day, Sept. 4 — Closed; Thanksgiving,Thurs. Nov. 23— Closed.