Wild Birds Unlimited Seeks a New Staff Associate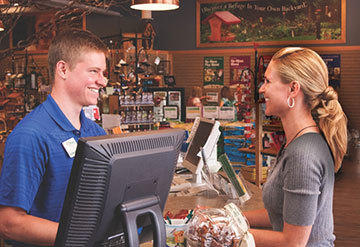 Wild Birds Unlimited Seeks Weekend Sales Associate (Eugene)
Wild Birds Unlimited provides an engaging, high-energy shopping experience for our customers. And being "behind the counter" is even more fun and interesting... Our staff enjoys interacting with the community, learning about and helping teach about birds and nature and meeting wonderful people -- our customers.
We sell a wide range of foods for wild birds, all types of feeders, housing/nesting materials, birdbaths, fountains and garden and home decor. We sell a complete line of hardware for setting up bird feeding stations in the yard, books, optics, and a wide range of nature gifts. We are Lane County's Backyard Bird Feeding Specialists.
We are seeking a Sales Associate with 3-5 years of retail sales experience and outstanding customer service skills. Our teammates work together helping customers, advising them on solving bird feeding problems, opening and receiving products and working behind-the-scenes... all to bring our mission to life: "We Bring People and Nature Together®...And We Do It With Excellence!" To that end, we provide training with regard to backyard bird feeding, products and bird knowledge.
A successful associate easily establishes good rapport with each customer, helping them increase their enjoyment of the hobby of backyard bird feeding by providing education and explaining options for their needs. You'll learn all about birds' needs, species that are found here and aspects of avian life to share with customers. First and foremost, though, is your ability to quickly establish rapport with customers, to help to "make" each customers' day.
We are seeking a person who will work both WEEKDAYs and WEEKENDs with a varied set of skills. Must be enthusiastic and highly skilled in working with the public and equally excellent at working with computer-based Point-of-Sales cash registers.
Though sales is the primary responsibility-- our customers ALWAYS come first -- this position also includes typical daily upkeep chores like POS data entry, cleaning, restocking, bringing bags of seed to customers' cars or in from delivery out back.
Qualifications: friendly, professional demeanor and customer service experience required. Past work in a position with public contact in a busy environment like retail, with 3-5 years' experience required. Applicants must be available to work ALL WEEKENDS as well as weekday hours, including occasional evenings. During holiday periods, additional hours will be needed to fulfill our store's mission.
Qualifications:
- Have an outgoing, friendly, engaged personality with lots of enthusiasm and consistent energy
- Enthusiastic about working with the public
- Team player, works well with others; excellent communication skills
- Nature lover; an interest in wild birds desired
- Ability to lift and move up to 20 lb bags multiple times daily AND help unload pallets of seed during delivery, up to 100 - 20 lb bags in an hour.
- Ability to stand continuously for 4 - 6 hours at a time
- Ability to work a weekend schedule to meet the needs of the business
See more extensive job description at: https://eugene.wbu.com/download/161191/
How to Apply:
Download application (see below) and bring completed application, your resume, professional references and a cover letter outlining why you want to work at Wild Birds Unlimited. You must apply in person. Open daily between the hours of Mon.-Sat., 10am - 6pm, Sun. 11am - 4pm at Wild Birds Unlimited, 2510 Willamette St. Eugene OR, 97405. Download the required application:
Job Application is here!