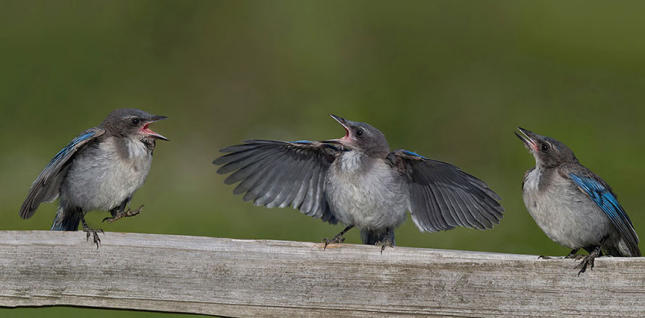 Bird Seminars: Breeding & Nesting Behaviors
May 17 & May 18; Sunday 4:30 pm, and Monday at 6:30 pm
We're in the midst of the breeding season for many of our local birds, and in this seminar, Dan will talk about breeding behaviors of birds and how they make and use nests. How do different kinds of birds find each other and come together to breed? There are many fascinating ways that birds forge bonds and find mates and you will learn about many of these fun and amazing courting and mating behaviors. We will also look at some of the different kinds of nests that birds construct in which to place their eggs, from simple scrapes on the ground to elaborately constructed nests. Come learn about some of birds' interesting behaviors... Shown above: Young Scrub-jays begging from parents...
____________________________________________________________________________
We are looking for a Teammate...




who is "for the birds!"



Wild Birds Unlimited is known for providing an engaging shopping experience for our customers. It is even more rewarding being behind the counter! Our staff enjoys interacting with the community, learning more about nature and meeting wonderful people — our customers.
We are seeking a part-time Sales Teammate with superb retail and service skills. Our teammates work together helping customers, advising them on how to solve issues, and opening and receiving products... all to bring our mission to life: "We Bring People and Nature Together®…And We Do It With Excellence!" To that end, we provide training with regard to backyard bird feeding, bird watching and product knowledge.
Requirements:
Previous retail experience preferred, but not required.
Ability to lift and carry seed (50 lbs.) to our customers' cars – a foundation of our service!
Associate position is part-time, 4 days a week including weekends (important), plus added hours from time to time, sometimes full time. A flexible schedule and the ability to work weekends are required.
Our goal is to provide quality products, service, expertise and a high-energy shopping experience. Help customers bring nature into their own backyards and lives. Come apply to join our team!
Wild Birds Unlimited in Eugene is one of the stores in the first and largest franchise system of retail stores catering to backyard nature enthusiasts in North America. "We Bring People and Nature Together" is our mission and the very heart of our mission. From the day we opened the doors in Eugene, OR, our goal has been to provide quality products, service, expertise and a engaging shopping experience. You too could work at a Wild Birds Unlimited store and help customers bring nature into their own backyard and lives!
____________________________________________________________________________
May Bird Walks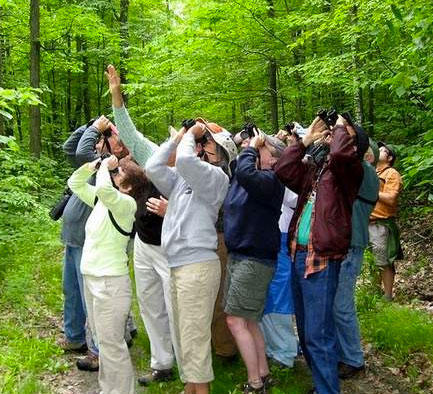 May 20, Wed.: 7-9am—

Skinner's Butte

Led by Donna & MIeko, WBU Staff Teammates
• • •
May 30, Sat., 7-9am—

Mt Pisgah
Led by Caryn Stoess
Call the store to sign up: 541-844-1788
Join Staff members Mieko and Donna and colleague Caryn Stoess for these bird walks. Each walk lasts about 2 hours and up to 15 participants can join so all may see and hear birds spotted.
May 20: Skinners Butte. Leaders: Donna and Mieko — This local bird hotspot is often visited by migrating warblers, tanagers, grosbeaks and more. We can check out how big the eaglets are getting in their nest, too. We plan to start from the park below and walk up the butte to the top, so be prepared for walking up the hill. Those that can't do hills could also drive to the top and await us there, too. Sign up IN ADVANCE at the store or via phone and provide phone number and email so we can arrange a meeting location with participants.
May 30: Mt Pisgah. Leader: Caryn Stoess — Join us at this wonderful "birdy" destination! Walking conditions: we'll walk along the river and through a meadow. We won't hike up the mountain so the change in elevation is minimal. Most walking will be on gravel or dirt paths. Directions and meeting location will be sent to participants in an email before the walk. Note: There is a $4 parking fee for those who do not have an Arboretum or Lane County Pass.
Are you ready to look beyond your yard for birds? Come walk around one of Lane County's birding "hot spots" with other bird lovers and learn about birds and birding. No previous birding experience is necessary for this two hour walk. We'll use our ears and eyes to locate birds and our brains and a field guide to identify them. You'll be surprised by how quickly you start pointing out birds to other people once you learn a few birding basics. Bring binoculars if you have them...let us know if you need to borrow a pair from the store, as a very few pairs are available for bird walk loans. We'll cover techniques for locating birds with your binoculars so you can view them more easily. Bring your questions, bird stories, and sense of adventure. We hope to see you there!