DSC members: Save During our
Mix 'n Match Sale!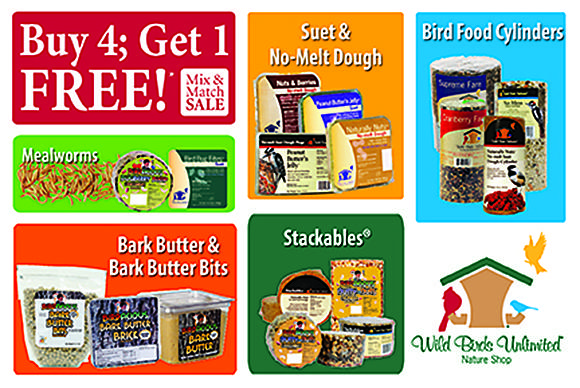 More Foods, More Birds, More Fun
Whether in the midst of Spring migration or dealing with the onset of winter's rainy season here in the Northwest, birds need foods that are high in fat and calories. They don't store fat like humans do, so these fats are really important for them.
Help them meet their needs by offering a varied mix of foods, not just simply seed... To help, we've put together a group of food options for you to try, to make sure YOUR birds know your feeding station is THE place to come eat in the area!
Come see the selection of Mix 'n Match Foods we've put together for you to try... they're not only great for the birds' needs, but convenient for you, too: Bird Food Cylinders, suet, mealworms and Bark Butter® and Bark Butter Bits®.
During our Mix 'n Match Specialty Bird Foods Sale, buy 4 specialty bird foods and get 1 (the 5th one) free. It's a great way to try new foods and to save while providing your birds with much-needed nutrients.
Mix & Match Specialty Bird Foods Sale:
Buy 4; get the 5th one FREE*
*Buy any four specialty food items, get the fifth item of equal or lesser value FREE. Valid only at the
Eugene Wild Birds Unlimited, 2510 Willamette Street. One discount per purchase.
Offer not valid on previous purchases or sale items. Offer expires 2/1/15.
Print this coupon or bring in on your phone!

2nd Saturday South Willamette Artwalk — Work of the Gleasons: Dan & Barbara's artwork & photos. Exhibit reception February 14 (Valentine's Day)!
Join us Saturday afternoon, February 14 from 3-6 pm, to enjoy refreshments and talk about the artwork with Barbara & Dan at 2510 Willamette.

Wild Birds Unlimited of Eugene is featuring the work of owners Barbara & Dan Gleason. Barbara has exhibited her work nationally, winning awards for her bird portraits. She works with colored pencils as well as acrylics and pencils to create portraits of birds and animals and landscapes. Former national board member of the Colored Pencil Society of America, she studied design on the East coast before moving West in the 70s. Dan has been photographing birds for about 40 years, and got his first camera in kindergarten (really!). He has also done colored pencil work as well and some of these pieces will also be on exhibit. Barbara will have cards available, based on a few of her works.