Making a Difference in Our Community:
More Than Just a Hobby
Those of us who work at Wild Birds Unlimited know that bird feeding is more than a hobby; it's a way to connect with the natural world and help the creatures in the environment around you.
By providing quality products, reliable education and accurate information, as well as excellent service and inspiration, we have an opportunity to help people enjoy birds and nature throughout their lives.
Though our store is a "youngster" in Eugene, the owners, Barbara and Dan Gleason have been active in birding, Audubon chapters, Cascades Raptor Center, the McKenzie River Trust and other bird- and nature-related organizations for over 25 years. And, what's also true is that each of our employees also have roles in supporting community efforts in improving the natural and human world.
Cascades Raptor Center
Wild Birds Unlimited of Eugene contributes funds, skills and services to CRC, and we've been loyal supporters for nearly 20 years. Cascades Raptor Center (CRC) (www.eraptors.com) was founded in 1987 and expands its capabilities each year, with a fantastic team of volunteers and very few staff.
Over 15,000 people typically visit the Center during a year and more than 50,000 lives have been touched with an up-close look at the majesty of our native birds of prey. Volunteers contributed over 16,000 hours in 2007 which, at even minimum wage, constitutes a value of nearly $125,000 that is not reflected in our financial statements. These hours are contributed by animal care volunteers, artists, mainstream and at-risk youth doing community service and job skill development work, and friends and supporters doing such things as building trails and cages, organizing and staffing fund-raising events and our educational display booths. Stop in to visit this amazing, world-renowned raptor center!
We sponsor some of the family days there and this coming Tuesday, April 22, EARTH DAY, we'll be donating 10% of the day's proceeds to CRC! So, if you also love raptors, and support CRC, stop in Tuesday! You'll not only be helping your neighborhood birds, but also helping CRC help feed baby owls, hawks, eagles, and more.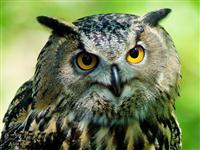 Visit CRC and meet Dimitri, the Eagle-owl!
2nd Saturday South Willamette Artwalk, May 10
Retrospective: Artwork and Calligraphy of Joan Bray
Wild Birds Unlimited of Eugene again joins the stores and businesses participating in the monthly 2nd Saturday South Willamette Art walks, from mid-afternoon to early evening each 2nd Saturday.

On Saturday May 10, join us from 3-6 pm for a Retrospective on the Artful work of a beloved local volunteer who was a botanist, bird lover and watcher and caring volunteer for many organizations: Joan Bray. Joan passed away a little over a year ago and her daughter has curated this show of her watercolors of birds and plants associated with her calligraphy. She led an interesting and very adventuresome life, coming from Wales as a young War Bride and rising her children here in Eugene. Some seating will be provided, too.