Mother's Day Gifts for Bird & Nature Lovers!
Have you had your eye on a particular item in the store...for yourself or for a loved one? Do you need the perfect nature gift for Mother's Day, May 9?
Bring in the coupon below, give it to a certain someone to use for you, or bring it in on your phone to receive 20% off a bird feeder, bird bath, set of chimes or unique nature gift from the store.* It's the perfect opportunity to save on unique nature gifts this season.
_____________________________________________________________________________________
20% OFF One Regularly-priced,
Non-Bird Food Item*
*Valid only at the Eugene store. One discount per purchase. Offer not valid on previous purchases, optics, sale items, or the purchase of gift cards or DSC memberships. Offer expires 5/31/15.
Stop in to see our new recycled sculpted metal feeders (shown above), nest boxes, peruse books, puzzles or other gifts for bird lovers, like Noah Strycker's book "The Thing with Feathers," now in a paperback version.

__________________________________________________________________________________
May Seminars:
Breeding & Nesting Behaviors
Shown below is a Bushtit Nest, a hanging sock-like structure...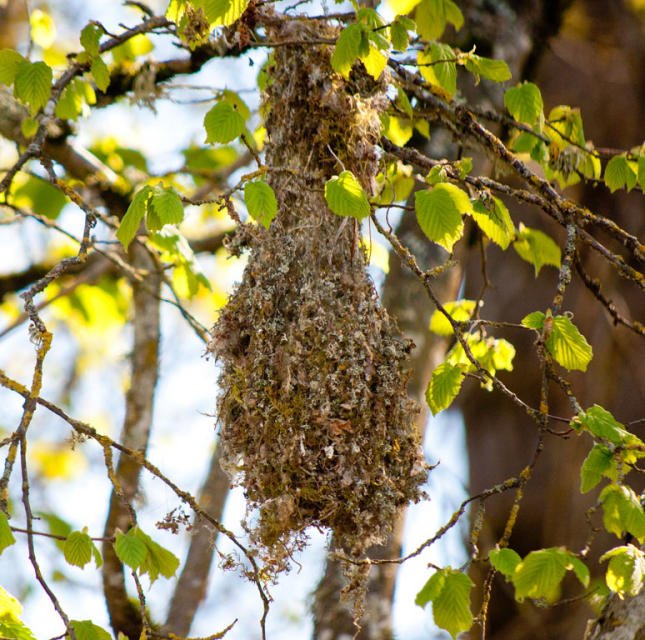 May 17 & May 18; Sunday 4:30 pm, and Monday at 6:30 pm
We're in the midst of the breeding season for many of our local birds, and in this seminar, Dan will talk about breeding behaviors of birds and how they make and use nests. How do different kinds of birds find each other and come together to breed? There are many fascinating ways that birds forge bonds and find mates and you will learn about many of these fun and amazing courting and mating behaviors. We will also look at some of the different kinds of nests that birds construct in which to place their eggs, from simple scrapes on the ground to elaborately constructed nests. Come learn about some of birds' interesting behaviors...
_____________________________________________________________________________________
2nd Saturday South Willamette Artwalk, May 9
Photography of Kit Larsen: Colors—Birds, Travel, Photography

Orange-browed Hemisingus, a photo from Peru by Kit Larsen

Colors: the color schemes of tropical birds in Bolivia are echoed in native Peruvian textiles in photographs by Kit Larsen shown at the Wild Bird Center for the month of May, 2015. His photos celebrate the bright colors and shapes of tropical birds in their natural habitats.
Birding – Travel – Photography: These activities came together for me after I retired about ten years ago. I volunteered at Malheur Wildlife Refuge in eastern Oregon where my job was to study the birds, especially the cranes. I taught myself digiscoping – taking photos through a spotting scope, using a four megapixel camera. Digiscoping is slow and if the bird moves, your subject is gone. I moved on to a single-lens-reflex Canon Rebel and a zoom lens 100-400mm. I still use the zoom lens, but have upgraded my camera.
Since then I have traveled to Latin America a few times, where I have taken many bird photos. On one trip, I found the color schemes of tropical birds in Bolivia to be echoed in native Peruvian textiles and created some photographs that express that similarity. other photos celebrate the bright colors and shapes of tropical birds in their natural habitats.
___________________________________________________________________________________
Two More Days to Help Us Raise Funds
for Cascades Raptor Center!

We've almost reached our goal of raising $1500 for CRC, so stop in and purchase
a few more raffle tickets to help us meet the goal.

Enter your raffle tickets into any of 8 prize bags to win FREE Prizes while helping
CRC help birds and provide education to the community. Everyone gets one free raffle ticket,
but more are just $1 ($1/ticket) at the counter! EVERY DOLLAR GOES TO CRC!

Put a ticket (or a dozen) into the bags next to each item you want to win!
Drawings will be held May 1 and we'll call the winners to give them the news!
___________________________________________________________________________________
May Nature News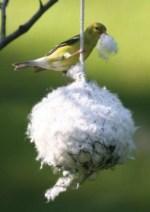 Late-nesting goldfinches can still be attracted to nesting material

In the yard
Many of our resident, non-migratory birds have begun the nesting season. Anna's Hummingbirds have already fledged young and chickadees, scrub-jays, and House Finches are not far behind, with the first fledglings likely to appear soon. Be on the lookout for rather "scruffty-looking" fledglings following their parents and begging for food. Or watch your chickadee flocks to see if any youngsters are
still practicing branch-landing, falling up-side-down as they initially land! While many cavity-nesting birds have already secured nesting sites for the season, May is the last month in which to put up a bird house to attract some of the later nesting migrant birds, most notably Violet-green and Tree Swallows. You can also still put out our nest material balls or the blocks we have of cottony nesting material, which late-nesting goldfinches will happily use to line their nests.
In some cases, you may notice fewer birds visiting your backyard feeders at this time of year. Don't worry—this is only temporary as birds diligently feed their mates or young, staying close to their nesting sites. The seasonal abundance of natural plant and insect food may also reduce traffic at your feeders. In general, seed-eating birds also feed their young protein in the form of insects, reducing the percent of their diet they obtain from seeds and plant foods.
This is a great time to offer mealworms, which will be taken eagerly by many bird species, since they feed insects to their young. We have an excellent source for very high-quality, fresh mealworms and we'll keep them in stock as best we can. The northward move of nesting White-crowned and Golden-crowned Sparrows, and the relocation to breeding grounds of a lot of the Dark-eyed Juncos, reduces the number of seed-eating birds present during the summer.
On the other hand, summer is the time for grosbeaks, both Evening and Black-headed, which are now being widely reported in the area. Have any come to YOUR feeders yet?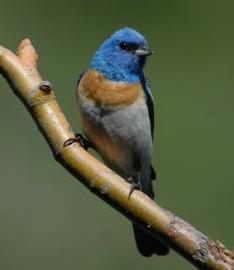 Lazuli Bunting
Migration in the field
Mid-spring brings both departures and arrivals to Willamette Valley birdlife, as well as nesting season in full swing. Spring migrants are still pushing into the state with some of the last local breeders soon to appear. Early May is a great time to see northward bound migrants hanging with the local resident birds. The northward-bound Townsend's Warblers, plus Wilson's, Black-throated Gray, Yellow, Hermit, and Nashville Warblers, as well as Cassin's and Warbling Vireos are often seen in these flocks, but they may be seen fleetingly as many journey on towards nesting grounds farther north or east. Some of these birds do nest locally in appropriate habitat such as Wilson's, Orange-crowned, Black-throated Gray, and Yellow Warbler. Black-headed Grosbeaks and Lazuli Buntings arrive any day now and will be singing on territory and building nests. Soon the last of the spring migrant passerines will be moving in, including Western Tanager (one of the most beautiful of North American birds) and the Swainson's Thrush (one of the prettiest songs of North American birds).