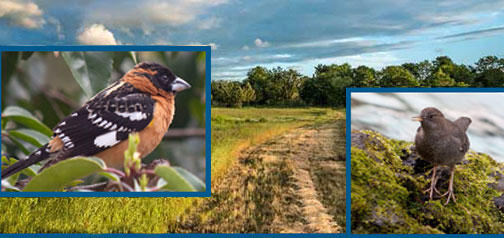 Saturday, May 7, 10am - 6pm
McKenzie River Trust Fundraiser
with SEED SALE!
1-Day Special: 20# Bags of Seed* are 15% OFF and
50% of Day's Sales Will be Donated to the McKenzie River Trust!
Do you need bird seed, quality feeders, binoculars, field guides, or maybe a birdbath? Wild Birds Unlimited is donating 50% of sales to MRT! WBU owners Dan and Barbara Gleason are passionate about nature, birds, and our community. We and our staff love to help answer any questions you may have about birds. And 50% of your purchases on May 7th will help protect bird habitat in our community. Photos above, left Black-headed Grosbeak, center, Green Island MRT property, and right, Dipper, in the McKenzie River. *Seed must be in stock at time of purchase, picked up/purchased on May 7 from 10am to 6pm.
••• ••• ••• ••• ••• ••• ••• ••• ••• ••• ••• ••• ••• ••• ••• ••• ••• ••• ••• •••
Maybe you've had your eye on a particular item in the store, or maybe you need the perfect nature gift for Mother's Day, May 8. Now is the perfect time to shop for your mom and mama birds.
20% Off One Regularly-priced Item (Now thru 5/15/16)*
*Valid only at the participating store(s) listed. One discount per purchase. Offer not valid on previous purchases, gift cards, optics, DSC memberships or sale items. Offer expires 5/15/16.
••• ••• ••• ••• ••• ••• ••• ••• ••• ••• ••• ••• ••• ••• ••• ••• ••• ••• ••• •••
Mother's Day Gift-giving Ideas

Sunday
, May 8
is Mother's Day
Caramels - Bird Houses - Bird Trellis - Tech-savvy Mom's Portable Charger
Oregon-made Bird Bath or Beautiful Porcelain Creatures?!
Does the MOM in your life love sweet things? Stop in for a round of our hand-made caramels in original or sea salt flavors... Ready for winged neighbors to move in? Consider one of our colorful, small bird houses that fit chickadees or wrens, with hand-painted fronts & sides. Need a gift for a tech-savvy mom? How about a cell phone charger / flashlight! She can charge her phone anywhere!
Would yard art suit her? Come see our Rusty Heron-Cattail Trellis, for birds to perch on as they approach your feeders, or for trailing plants from the garden. Our newest bird bath, made in Salem, OR, is concrete with a bas relief of St. Francis on the base with a vine-decorated top. And if she treasures small treasures, come see Shelly Fredenberg's sweet porcelain creatures! She has brought us a few small birds, soft, gorgeous little Barn Owls, an elephant, turtle and a hedgehog, too!