March Breeding Bird Behavior Seminars...
A Few Spots on Friday left...

Breeding Birds Behaviors are fascinating and complex. A few seats are left on Friday, March 7 for Dan's seminar, so call soon if you aren't already on the sign-up list! Pre-registration is required due to space considerations. Call us at 541-844-1788 to see if there's still room...
Help Your Birds Spring into Action
It's a busy time of year for your backyard birds. They're expending a lot of energy as they establish territories, attract mates and forage for food. During nesting season, birds are looking for foods that are high in calcium, an ingredient that helps promote stronger eggs and healthier bones for mother birds and their babies. We offer a variety of foods with added calcium to give your birds a boost this time of year.
$5 OFF $25 of purchases...
Bring in a print of this page to get your discount!
*Valid only at the Eugene store. One discount per purchase. Not valid with other discounts or offers or on previous purchases. Not valid on sale items, optics, Monthly Artists works, or the sale of gift cards or Daily Savings Club memberships. Offer expires 3/15/14.
** ** ** ** ** ** ** ** ** ** ** **
New Products Recently Arrived..

Oscar and Jone Palmquist have been developing and taking photos of a product Oscar developed a while back and that has allowed them to get some amazing photos! It's their Bark Butter Log Feeder, and they've now brought some in to the store to sell to share the fun! Here 's one of their photos, and there are plenty more, one comes with each feeder, in fact! They've even had a hawk show up to see if she/he couldn't find something to dine on when in their yard! Hawks have to eat too, and they are amazing birds, so come see if one might work for you.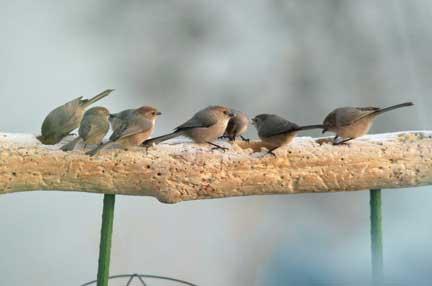 Note: Since these sit close to the ground, be sure to place it well away from where cats can access it. That's only fair!
New Earrings from nationally-known jeweler, Alysse Hennesey, of Nettles Jewelry
We just got some wonderful "birdy" (mostly!) earrings in from a locally-based artist who has her work in stores across the country, including in some National Park gift stores. Her earrings are wonderful, she uses "green" methods with recycled glass, non-toxic solder, etc., and the earrings are reversible! Come see them soon, before some styles are all taken!!