National Wild Bird Feeding Month & Great Backyard Bird Count
• • ••• • •
ArtWalk Sat., Feb, 14: 3-6pm, showing Gleasons' Work
• • ••• • •
Nesting Season

• • ••• • •
February:
National Wild Bird Feeding Month!
Cupid isn't the only winged one that people need to watch out for this month. In 1994, the United States Congress proclaimed February to be National Bird Feeding Month.
Backyard bird feeding is enjoyed by more than 46 million North American humans...and by millions of North American birds! And while February is National Wild Bird Feeding Month, with the right provisions, people can enjoy a wide variety of Oregon's backyard birds all year long.
The Great Backyard Bird Count, a joint project between the Cornell Lab of Ornithology and the National Audubon Society, STARTS TOMORROW, Friday., Feb. 13,2015!
Individuals, families, schools and organizations are invited to count birds at bird feeders and in backyards, local parks or other locations. Those tallies are then reported online through the BirdSource web site. This data helps define bird ranges, populations, migration pathways and habitat needs.
The count is fun, easy and educational. It's also a terrific way for Cornell and Audubon to learn more about the abundance and distribution of bird species.
The average back yard is visited regularly by 15 or more different bird species. People can increase the variety of birds that visit their backyards by providing the appropriate food in the right location.
There are three common backyard bird feeding categories: ground-feeding, elevated feeding and a combination of both. For example, goldfinches prefer to eat Nyjer® (thistle seed) from a tube feeder, whereas doves generally eat millet or other food on the ground. Woodpeckers prefer suet at elevated feeding stations, and Juncos prefer to feed on the ground like doves.
Stop by your local Eugene Wild Birds Unlimited and let us show you how you can attract feathered friends to your backyard habitat!

Your Backyard Counts!
Take Part in the Great Backyard Bird Count
February 13 - 16, 2015
When you feed the birds in your Lane County backyard, it shows that you value having a daily relationship with nature and that you are willing to take action to foster it.
Like many of us, if you have been feeding birds for a while…you probably have a "reputation!" Your friends, neighbors and relatives likely see you as a person who loves nature, and they value your willingness to share the joy of "your" backyard birds at a moment's notice.
Your hobby and your backyard truly count as things that are important to you.
The Great Backyard Bird Count gives you the opportunity to make them count even more than ever by participating in this annual event which links citizens with scientists in an effort to collect important data about backyard birds.
The GBBC is a joint project of Cornell Lab of Ornithology and the National Audubon Society and is sponsored by Wild Birds Unlimited. It takes place each February and is THIS WEEKEND.
Count the birds in your backyard, and then simply report the information online at http://gbbc.birdcount.org/.
This extensive information data base is analyzed by scientists to better understand important trends in bird populations, range expansions, habitat changes and shifts in migration patterns.
Make your backyard count even more for the birds when you participate in this year's GBBC. And to ensure the birds all show up to be counted, visit our store for the widest variety of great bird food products!
Here is John Schaust, Wild Birds Unlimited's Chief Naturalist to tell you more...
To learn more about the GBBC, or to enter a checklist please visit: http://gbbc.birdcount.org/
• • • ••• • • •
• • • ••• • • •
2nd Saturday South Willamette ArtWalk
February 14, from 3-6 PM
Artwork by Dan and Barbara Gleason
Barbara's colored pencil paintings and Dan's photos and colored pencil work will be on display during February. The South Willamette ArtWalk on Saturday February 14, from 3-6 pm, so stop by to chat about our work, enjoy some refreshments or learn more about the Colored Pencil Society and local colored pencil artists and classes. (Shown here: Dan's photo of a Barn Swallow and Barbara's portrait of Toto, an American Kestrel.)
• • • ••• • • •
Seminar—Diurnal Raptors: Hawks, Falcons, Accipiters, Osprey

Only a few spots left Mon., Feb. 23 at 6:30 pm;
waiting room only Sun., Feb. 22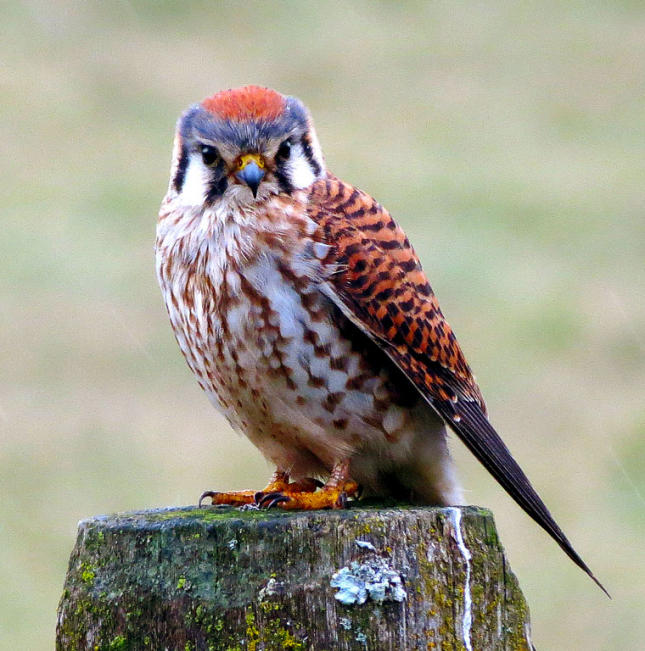 Perhaps as long as humans have been looking to the sky, we have been fascinated by—and often greatly admired—raptors. We have honored them in our literature, our art and our mythology and stories.
So, what is a raptor? Typically, we say it is a bird-of-prey, or birds that capture and eat other animals. These are carnivores, to be sure, but so are many other birds that we would not call raptors: insect-eating warblers, birds that catch fish, etc. We divide raptors into two large groups: owls (or nocturnal raptors) and Diurnal (or day-hunting) raptors.
Dan's presentation will focus on diurnal raptors, which includes hawks, eagles, kites, falcons, Osprey and vultures. Come learn more about these fascinating and regal birds, who they are and how they live their lives. (Image shown, American Kestrel, female, ©Dan Gleason, 2011)