EcoClean® Feeders & Accessories — with Antimicrobial Protection
A Wonderful Advancement in Bird Feeding Convenience and Ease...for You, and Health of the Birds!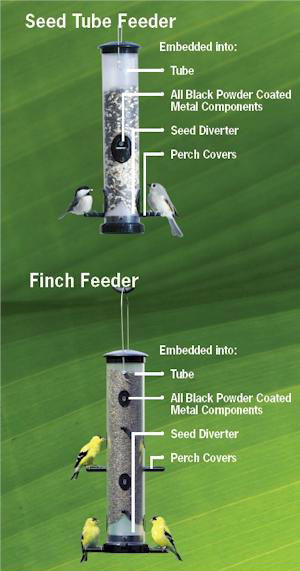 Available only at Wild Birds Unlimited, our EcoClean® feeders and accessories are the most advanced bird feeding products available. EcoClean® products feature a patented technology that contains an anti-microbial material that inhibits the growth of mold and bacteria on the feeders' surfaces. It makes them super-easy to clean, giving you the most convenient way to clean your feeders...and clean feeders mean birds come back to them more readily. Add our fresh-each-week food, and you'll be the envy of your bird feeding friends and neighbors!
Every EcoClean® Feeders comes with:
• A special treated surface that inhibits mold and microbes
• Quick-Release bottoms (no unscrewing bottoms and losing nuts & bolts!) on Tube & Finch Feeders
• Lifetime Guarantees
• Parts replacement of most essential parts right here at our store
When it's time to clean your feeders, all you need is hot water and often no soap is required!
How Does The Antimicrobial Product Protection Work?
The exclusive WBU EcoClean® products feature a patented, silver-based antimicrobial technology called Agion, built into select components. This "smart" material will only release its antimicrobial properties when microbes are present. When microorganisms come in contact with the treated surface, silver ions are released on demand to the surface of the products to combat the organism. The WBU EcoClean® feeders inhibit the growth of damaging bacteria, mold, mildew, fungus and other microbes on the treated product components. Agion is unique in that it works against microbes in 3 ways:
1. Starve (takes away the food source)
2. Sterilize (does not allow them to multiply)
3. Suffocate (blocks their oxygen intake)
It won't wash or wear away. Agion is found in medical and consumer products like cell phones, computers, keyboards, office supplies, footwear, medical catheters, etc.