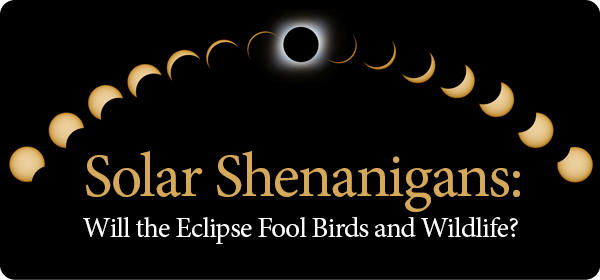 As the excitement builds towards the solar eclipse on August 21st, we are fielding lots of questions about what impact this spectacular event will have on birds and other wildlife.
Wild Birds Unlimited plans to OPEN LATE, at NOON, so come join us at the South Eugene High Field event (see below) or make your way to Skinner Butte for the top-'o-the-butte event with shuttles from Campbell Community Center starting at 8:30am.
See below for these events!
There are numerous anecdotal accounts and observations that appear to show that many species of birds and other wildlife do react in various ways to a solar eclipse. These reactions can occur as the eclipse progresses and enters totality, as well as when the sun re-emerges.
Here are some of the reactions by birds and wildlife that have been reported to occur during previous total eclipses.
Birds
Confused Crooners - Songbirds have been noted to decrease their singing as an eclipse progresses, often to a point of total silence during the maximum darkness of totality. Scientists think that the darkening sky triggers birds' night-time behaviors.
Out of Sync Singers - Observations show that some birds may also be confused by the re-emergence of the sun and a "dawn chorus" of bird song might be heard just as it would be during a morning sunrise.
Day or Night? - Numerous bird species have been reported to return to their night-time roosting locations as the total eclipse progresses. Starlings have been noted to return in large flocks to their roosts and display agitated behavior until the light returns to normal.
Night or Day? - Nocturnal birds such as owls, whip-poor-wills and nighthawks have been reported to either become active, take flight or call out during total eclipses.
Fowl Movements - Domestic fowl and pigeons have been observed to quickly return to their roosts or coops as the eclipse darkens the sky.
Savvy Shorebirds - Anecdotal observations seem to imply that in general, shorebirds seem to display very limited reaction to total solar eclipses.
Other Wildlife
Early Chirpers - Crickets have been widely observed to start "chirping" as the sky darkens and then fall silent upon the re-emergence of the sun. Katydids in areas where they occur have also been reported to demonstrate this same behavior.
Silent Cicadas - Cicadas have been noted to end their shrill day-time calling and fall silent as the eclipse progresses.
Moving Mosquitos - During the darkest portions of an eclipse, mosquitos have been noted to emerge in mass.
Hustling Honeybees - Honeybees have been observed to return in swarms to their hives as the eclipse darkens.
Dream Weavers - Orb-weaving spiders, which generally re-weave their webs every night, have been observed to dismantle their old web during the darkness of an eclipse.
Busy Bats - Bats have been noted to emerge from their roost as the sky darkens and then return with the re-emergence of the sun.
Sly Skunks - Skunks, which are largely nocturnal, have been reported to come out and start foraging as it grows darker during an eclipse.
Sleepy Squirrels - Squirrels are reported to retreat to their nests during a total solar eclipse.
Here are some local events in Lane County...
Do you know where you will observe the 2017 Total Eclipse at approximately 10:15 a.m. - 10:20 a.m. in the Willamette Valley?
Below is a list of events to help you find the perfect spot to view on August 21st, 2017! Grab your solar eclipse safety glasses and step outside to view this stunning event, as the moon blocks out the sun.
Total Eclipse of the Sun 2017 Viewing Party
August 21, 2017 | 9:30 AM - 11:00 AM
Presented By: South Eugene High School, Lane County Medical Society, Oregon Eye consultants, LLC and Eugene Family YMCA
It's the first total solar eclipse over the U.S. in 38 years, come and celebrate! Please join the Lane County Medical Society, the Eugene Family YMCA, and Oregon Eye Consultants for a free eclipse viewing party at the YMCA Field for a morning of science and fun. Oregon Eye Consultants will have safety-approved glasses available for free, and volunteers will be on hand to explain the science behind eclipses and how to view them safely.
All ages are welcome. Music and refreshments provided. Please note that while Eugene is not in the path of totality, we'll still experience a near-total eclipse, with 98 to 99 percent of the sun covered by the moon. The eclipse starts around 10:15 am, so make sure to arrive early to get your glasses and view the event safely.
South Eugene High School, 400 E 19th, Eugene, OR 97401
Skinner Butte Solar Eclipse Watch Party
Monday, August 21, 2017 | 8:30 AM - 12:00 PM | Price: Free
Presented by City of Eugene Recreation
The rare solar eclipse will appear at about 98 percent of totality in Eugene. Let us shuttle you to the top of Skinner Butte. Shuttle buses will be leaving from Campbell Community Center (155 High Street) every 10 minutes starting at 8:30 a.m to bring you to the top of the butte. You can also walk or bike up to the butte, no cars will be allowed. The maximum eclipse will be at approximately 10:15 a.m.

A limited number of eclipse glasses will be available. Interpretive signs, activities and a coffee vendor will be on site. This will be the only total solar eclipse viewable from Oregon this century - don't miss out!
Eugene Public Library
Library hours: On Monday, August 21, all Eugene Public Library locations will delay opening until 10:30 a.m. in honor of the first total solar eclipse over the U.S. in 38 years. The Eugene area will experience 98%-99% of the total eclipse of the sun. The eclipse is expected to occur here between 10:15 and 10:21 a.m.
Eclipse glasses: Safe viewing of the eclipse requires special glasses. The Library has secured a supply of eclipse glasses free from NASA, and will offer them free to the public starting Monday, August 14 at all Library locations. Eclipse glasses will be provided on a first-come, first-served basis, with one pair for each individual present in person, while supplies last.
Learn about the eclipse: The Downtown Eugene Public Library will host an illustrated talk about the total solar eclipse by University of Oregon physics professor Dr. Jim Brau on Wednesday, August 16, 6:00 at the Downtown Library. Admission is free.
For preschoolers and kindergarteners, along with their grown-ups: Join in a session of stories and hands-on science activities about shadows, including the giant one that is the solar eclipse. This free event will take place on Monday, August 14, 4:00 at the Downtown Library.
The Library also offers books and other resources for all ages to learn about the eclipse. Eugene Public Library, 100 W 10th Ave., Eugene
541-682-5450 | www.eugene-or.gov/library
UO Solar Eclipse Lecture at Eugene Library
Presented By: University of Oregon | August 16, 2017 | 6:00 PM | Price: Free
Jim Brau, professor of natural science at the University of Oregon, will discuss the science behind the 2017 Solar Eclipse in a talk suitable for all ages. Eugene Public Library, 100 W 10th Ave, Eugene, OR 97401
physics.uoregon.edu/solar-eclipse-2017