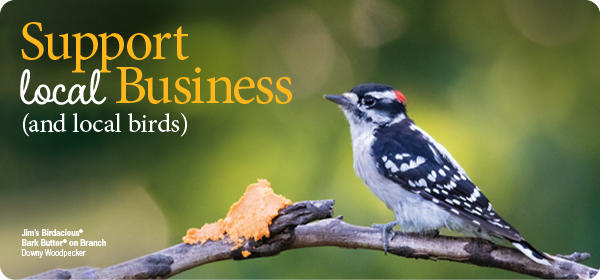 Support Local Business (and Local Birds, Too!)
Your support of our locally-owned business (and the local birds) hasn't gone unnoticed. We thank you from the bottom of our hearts! Every time you shop with us, whether in-person or online, you can rest assured that you're getting the right bird foods and feeders specifically for the birds in our area. We're proud to provide expert advice to help you bring the joy of bird feeding into your backyard.
Wild Birds Unlimited in South Eugene
2510 Willamette Street, Eugene, OR 97405
Phone: 541-844-1788 • [email protected]
We are open at WBU South Eugene for in-store shopping & curbside pickup. Order ahead by phone or online at order.wbu.com/eugene.
• Free curbside pickup IN FRONT of the store
• Hand delivery to your door (general Eugene/Springfield area) or via FedEx (within 150 miles)
• Delivery is free for orders over $75 and $7.99 for orders under $75 within 150 miles of the store
• Delivery costs increase for orders over 150 miles away from the store
• Deliveries made on Thursdays
Hours:
• Monday: 9 AM - 5 PM
• Tuesday: 9 AM - 5 PM
• Wednesday: 9 AM - 5 PM
• Thursday: 9 AM - 6 PM
• Friday: 9 AM - 5 PM
• Saturday: 9 AM - 5 PM
• Sunday: 10 AM - 4 PM
---
SPECIAL HOURS / STORE CLOSED:
Closed New Year's Day
Closed Easter
Closed Memorial Day
Closed July 4th
Closed Labor Day
Close at 2 PM Day before Thanksgiving
Closed Thanksgiving
Close at 2 PM Christmas Eve
Closed Christmas Day
Closed New Year's Eve