Some Food for Thought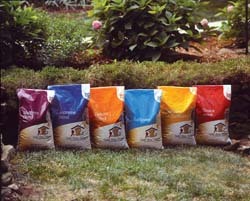 Let's face it; there are a lot of ways your bird feeding dollars can be wasted.
Squirrels definitely put a dent in your budget if they devour everything in sight, not to mention the starlings and jays that sometimes dominate feeders to the exclusion of the birds you really want to attract.
But, feeding a poor quality blend of bird seed from the grocery or hardware store can also be a waste of money if most of the undesirable filler seeds just end up rotting on the ground under the bird feeder...or worse, sprouting under your feeder into a mass of tenacious, ugly weeds!
We are often asked why the birds will not eat "bird seed" that our not-yet-customers buy elsewhere.
We invite you to bring in a quart-size bag of other seed you have been using. We can go through it to explain what each seed is so you can understand why you have the bird-feeding problems you have.
We are so thankful that one customer DID bring us the entire bag of seed that none of her birds would eat. We carefully picked through an entire pint of seed in the bag, separating each seed to show how many of each was present in the smaple and put each portion into a jar on our dispaly shelf. You'll be amazed at how much money she wasted on that bag when you see how much real food there was in it!
Come see our sample jars of "good" and "bad" seeds so you'll be able to be a better bird feeder by knowing what to avoid...
At Wild Birds Unlimited, we have the best bird foods, feeders and best of all, the expert advice from Dan Gleason that will help you get the biggest bang for your bird feeding buck!
Our quality bird foods target the specific birds you want to attract and discourage the birds you don't. We have feeders and accessories that can prevent or exclude domineering squirrels, Band-tailed Pigeons and other nuisance critters from eating you out of house and home.
And you will not find a better VALUE in bird seed than our quality WBU Seed Blends. With our regionally selected formulas, fresh quality ingredients and no filler seeds, you can rest assured that you will not be wasting any of your money on worthless, uneaten seed.
We will also share lots of expert advice about setting up and operating your bird feeding area in the most efficient and economical ways possible.
Give it some thought… if you are ready to take action, we are here to help you get more birds for your bird feeding buck!