NEW! Bird Events & News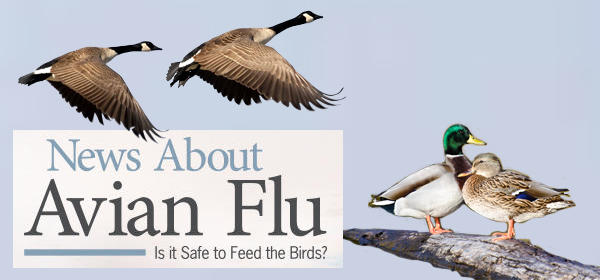 Avian influenza (or "bird flu") named HPAI is now being found in Lane County and Eugene, sadly.
May 19, 2022: Dan and Barbara Gleason, owners of The Wild Birds Unlimited stores in Eugene, have been monitoring the 2022 HPAI Avian flu occurrence. According to the vast majority of scientists and wildlife agency experts across USA and Canada, there is NO need to take feeders down, because passerines – backyard birds – do not appear to be susceptible to or transmit HPAI H5N1 (Highly Pathogenic Avian Flu).
According to the vast majority of scientists and wildlife agency experts across the entire USA, there is NO need to take feeders down, because passerines -- backyard birds -- are not getting or transmitting the current HPAI (Highly Pathogenic Avian Flu) avian flu.
The guidelines below will help you decide how to proceed given the conditions in your yard.
(Please note that when we refer to poultry below, this includes chicken, quail, turkeys and guinea fowl.)
1. If you do NOT have water bodies, waterfowl or poultry nearby then there is NO need to take feeders down.
Please DO CLEAN your feeders more often, more thoroughly and carefully, once a week at least! We have feeder cleaning instruction cards available in both stores or check out our Feeder Cleaning Page for best practices: https://eugene.wbu.com/how-to-clean-feeders
2. If you DO have water bodies, waterfowl or poultry nearby, but the birds in those areas don't come into your yard, then you do NOT need to take feeders down.
But again, CLEAN all feeders more often, more thoroughly and carefully, once a week at least! ALSO observe carefully, in case the situation changes, and those birds begin to interact with birds in your yard.
3. If you have poultry or waterfowl coming into your yard AND, if you can NOT keep feeder-using birds from interacting with poultry or waterfowl,
REMOVE your feeders for at least 2 weeks, to minimize transmission possibilities between the birds.
4. If you have neighborhood turkeys foraging in or near your yard there is no evidence yet that turkeys are being affected by HPAI,
but they are poultry, so if there are turkeys nearby, avoid placing food on the ground or where they can reach it.
• In ALL cases:
remove any seed debris that falls under your feeders, rake or scrape it away and put in plastic bags in your garbage, NOT in your compost. This virus can live a long time under conditions that might kill other viruses.
• PARK VISITORS TAKE NOTE:
HPAI has killed geese and goslings in Alton Baker Park and at Delta Ponds in Eugene. Two Red-Tailed Hawks have succumbed, one at Alton Baker and one in the Cal Young neighborhood. An Osprey found at Dorena Lake tested positive for HPAI as well, all as of May 19, 2022.
If you visit ANY park along the river, or near water bodies, you could bring the virus back to your home and yard on your shoes or clothing, and it could be transmitted to caged birds, or birds in YOUR yard! CHANGE your shoes, or wear different shoes, if you visit parks from those you wear in your yard or when feeding birds in your yard. Maybe create a station in your garage for a change of shoes from outside to inside your home; wear booties like the real estate folks give out at open houses... take extra precautions!
Wildlife rehabilitators have been using shoe changes in different parts of their facilities for some time in an effort to prevent birds being cared for from being affected by this illness, so it does seem to be an effective tool..
• BIRD WATCHERS PRECAUTIONS:
If you go birding or bird watching in ANY parks or wildlife areas, CHANGE YOUR SHOES in your garage afterwards, before entering your house or going into your yard to where bird feeders may be. You could carry the virus on your shoes, depending on where you went birding.
• SHOE CLEANING:
Step 1: remove shoes in garage or outside. Don't bring them into your home. Step 2: Using detergent and water, remove debris and visible grime from shoes. Step 3: Using a color-safe bleach, make a 1:30 ratio to step in for about 1-2 minutes. Step 4: leave them outside to dry thoroughly. For more in depth information, see the following link. Yes, it's a high fashion shoe site, but the information is good: https://www.aiobot.com/disinfect-shoes/
BACKGROUND:
At Alton Baker Park, Delta Ponds, and at other sites along the Willamette River and similar wet areas, adult Canada Geese and goslings have been found dying and deceased from HPAI, and, in addition, 2 Red-tailed Hawks, one in Alton Baker Park and one in a residential neighborhood not far from the Eugene WBU North store were found. And, at Dorena Lake, an Osprey succumbed to HPAI, too.
Since Fall of 2021, a highly pathogenic avian influenza (HPAI H5N1) has been detected in numerous outbreaks in North America. It is a naturally-occurring virus especially prevalent among wild aquatic birds such as ducks, geese and shorebirds and has been shown to affect commercial and backyard poultry with high mortality.
What about songbirds? Are they affected? No, it seems not...
According to the Cornell University Wildlife Health Lab, "Passerines [song birds] do not seem susceptible to HPAI and are not thought to play a significant role in spreading this virus. We are not recommending removal of bird feeders at this point."
And the Institute for Infectious and Zoonotic Diseases at U Penn Vet School states, "According to the USDA, there is no evidence that bird feeders, or the birds that frequent them, contribute to the spread of HPAI."
The US Department of Agriculture further states, "HPAI viruses and the illness they cause are not commonly found in wild birds…removing backyard feeders is not something USDA specifically recommends to prevent avian influenza unless you also take care of poultry." Also, the Government of Canada affirms, "The use of bird feeders is still safe but they should be removed from areas that are open to poultry and other domestic animals."
In addition, the US Centers for Disease Control and Prevention and the Public Health Agency of Canada currently deem H5N1 to be of low human health risk.
Here is a link to the recent posting on the ODFW site:
https://www.dfw.state.or.us/news/2022/05_May/051822.asp
To practice the hobby of bird feeding safely and to ensure the birds' overall health, it is always recommended you clean your bird feeders regularly with a solution of one part bleach and nine parts water.
Please check out our Bird Feeder Cleaning Page for helpful details on the best practices of doing this:
https://eugene.wbu.com/how-to-clean-feeders