NEW! Bird Events & News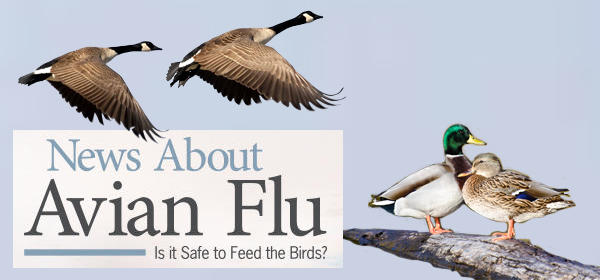 What You Need to Know
You may have heard about avian influenza (or "bird flu") and the development of this disease in North America.
According to the vast majority of scientists and wildlife agency experts, there is NO need to take feeders down, because passerines, backyard birds, are not getting the current avian flu.
Most state and Federal agencies are NOT recommending taking bird feeders down, UNLESS you have poultry (domestic chickens, mainly) or wild waterfowl in, or adjacent, to your yard.
NOW, in Oregon, the week of May 7, 2022, there is only 1 incidence of the disease in Oregon, a waterfowl flock in Linn County, but Federal and wildlife scientists nationwide say backyard birds are at minimal risk of getting this avian flu.
Here is what we advise, based on the information to date.
Please note this advice may change as the situation evolves and we will keep you informed.
At the present time (May 7, 2022), there has been ONLY 1 occurrence of Avian Flu HPAI in Oregon, only in 1 Linn County waterfowl flock in a private yard. UNLESS you are close to that flock, there is no need to take down feeders, as doing so accomplishes nothing to benefit the birds or you! Waterfowl and poultry are the main species where the disease has been found, along with a limited number of raptors or scavengers who feed on these at-risk species.
Here are more details:
Since Fall of 2021, a highly pathogenic avian influenza (HPAI H5N1) has been detected in numerous outbreaks in North America. It is a naturally-occurring virus especially prevalent among wild aquatic birds such as ducks, geese and shorebirds and has been shown to affect commercial and backyard poultry with high mortality.
However, according to the Cornell University Wildlife Health Lab, "Passerines [song birds] do not seem susceptible to HPAI and are not thought to play a significant role in spreading this virus. We are not recommending removal of bird feeders at this point."
And the Institute for Infectious and Zoonotic Diseases at U Penn Vet School states, "According to the USDA, there is no evidence that birdfeeders, or the birds that frequent them, contribute to the spread of HPAI."
The US Department of Agriculture further states, "HPAI viruses and the illness they cause are not commonly found in wild birds…removing backyard feeders is not somethings USDA specifically recommends to prevent avian influenza unless you also take care of poultry." Also, the Government of Canada affirms, "The use of bird feeders is still safe but they should be removed from areas that are open to poultry and other domestic animals."
In addition, the US Centers for Disease Control and Prevention and the Public Health Agency of Canada currently deem H5N1 to be of low human health risk.
To practice the hobby of bird feeding safely and to ensure the birds' overall health, it is always recommended you clean your bird feeders regularly with a solution of one part bleach and nine parts water.
Please check out our Bird Feeder Cleaning Page for helpful details on the best practices of doing this!